One of the things I've apparently been getting back into lately is the art of the wristwatch. I've gotten all my older ones operational again, and just got a rather fancy "pocket" variety for Father's Day this year.
None are particularly fancy, but they all tell time.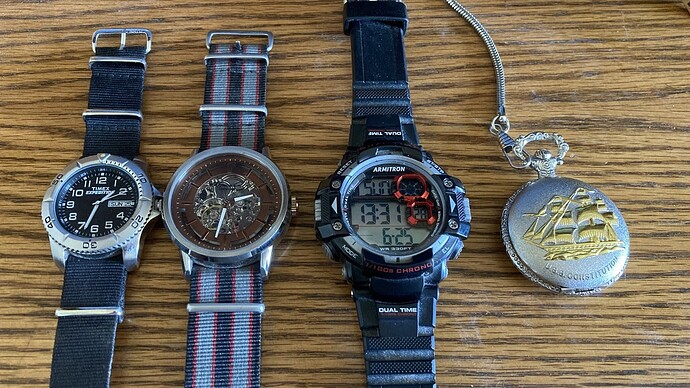 On the left, my old Timex Expedition. I got this back when I was getting my pilot's license, as it has the rotating outer timer bezel, and, should you care, hacking (stops the second hand when you pull the crown to set the time, so you can set it more precisely). This sat for years and had a rather uncomfortable band plus a dead battery. I recently got it a NATO strap and a new battery, and it's turned into my daily wear watch - small enough to be comfortable. It's also an entertaining case study in "No, really, you can have the 12 hour face set to the wrong AM/PM setting." Because it's got the day-of-week display on it, you absolutely can have it set to AM when it should be set to PM, and the day won't change until mid-afternoon.
The next one over is a pure mechanical "skeleton" watch - my wife got me this years back, and it's my "formal wear" watch. You can see the mechanism. I joke that the Bluetooth pairing is a bit worse than most smartwatches, but the live face is 3D and amazing to watch. Sometimes it takes people a tick or two to get the joke…
The third one is a bog standard Armitron, clunky, water resistant, stopwatch, timer, alarm, the usual goodies on a cheap watch. It's a bit larger than I prefer for daily wear, and I can't put a NATO strap on it, so it's rather less comfortable in the heat with the plastic band on it. Nice, but I just don't wear it that much.
And, finally, the new one - a nice pocket watch of some suitably generic variety, with the USS Constitution on the cover. Suitable enough for period wear with the Willys!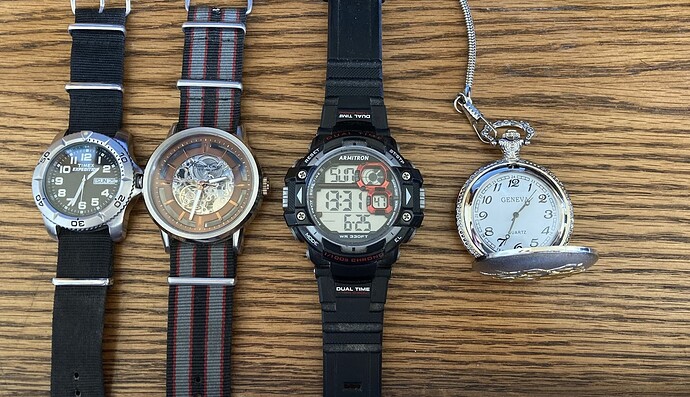 If you're not familiar with the NATO strap style watchband, they loop through both bars such that if you have one of the bars fail, the watch still stays attached. They also have a bit of fabric looping under the watch, so there's no bare metal on your skin - it interferes with the various sensors I don't have, and is a royal pain for smartwatch charging, but it's very comfortable in daily wear, and I fully suggest getting one if you wear a watch regularly.
What do you wear?